Learning how to play the guitar can seem like an arduous task to beginners, especially those who are unable to go to guitar lessons or hire a teacher to come to their house.
Without guidance, the learning process becomes even more difficult, and while many self-taught guitar legends such as B.B. King, Eddie Van Halen, and Prince went on to see tremendous success, not all of us have a god-like natural talent for playing.
Luckily for you, there is a whole myriad of resources geared specifically to training enterprising guitarists right at your fingertips.
These courses do a great job at bridging the gap between self-teaching and learning with a teacher. Search for online guitar lessons, and you'll be inundated with advertisements for sites claiming to offer the fastest and easiest path to learning guitar.
In our TrueFire vs ArtistWorks article, we're going to put the two sites head-to-head to tell you which one you should choose if you want to be a better guitarist.
Let's begin with getting registered on these two sites.
Registration & Prices
Signing up for these online guitar lesson sites is a quick and simple process, with both offering a free trial for their students and have the chance to try out their materials before committing.
To make things even better, neither of these websites requires you to enter any payment information in order to access their online course samples, so you don't have to worry about forgetting about them and then receiving an unexpected bill!
Registering for TrueFire requires a username, password, email address, and some information about your playing history, genre preferences, and goals (which they'll obtain through a series of questions).
This information will be used to set you on a suitable learning path and to recommend additional courses which are usually focused on more specific styles or techniques than the learning paths.
In order to give students a chance to try out the courses before forking over their cash, there is a 30 day free trial period.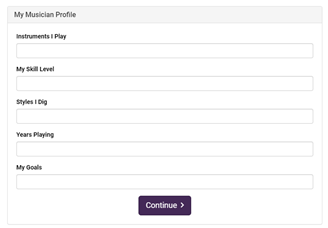 TrueFire Price:
• $19 per month
• $149 per year
Meanwhile, to access ArtistWorks, you'll need to enter your first name, email address, instrument, and style (genre).
ArtistWorks seem pretty eager to show you what they're made of, too, because they will immediately send you a video lesson with one of their expert teachers tailored to your instrument and style.
Artistworks Price:
• $105/3 months
• $179/6 months
• $279/12 months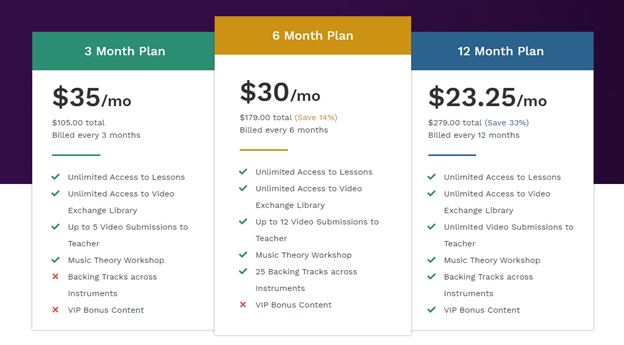 Despite their free trial, getting started to learn guitar on ArtistWorks demands a pretty hefty initial investment, with no option to pay per month.
Furthermore, their yearly plan is $139 more expensive than TrueFire's, so what exactly is ArtistWorks offering over TrueFire to command this high price point?
Content & Progression Systems
TrueFire starts off learners with their very own learning paths, which are shown based on the preferences and instruments that were selected during registration.
Once you've added your learning paths to your profile, they'll also recommend additional guitar courses available through their platform, which are generally based on your favorite genres or goals.
While these are a handy addition and provide more interesting content over the linear learning paths, they do require an extra investment to access.
Once purchased, these courses are with you for life, but it is worth recognizing that this puts TrueFire's lower subscription cost in comparison to ArtistWorks into perspective.
The courses and learning paths themselves are pretty simple, guiding students through specific genre-related skills and techniques while providing fundamentals for beginners and allowing more experienced players to skip ahead in the course to content that is actually useful for them.
Over on ArtistWorks, the amount of content you get is limited by the billing plan that you choose, with slightly more available for those who choose to lock into 6 months or 12-month plans.
The 3-month plan comes with unlimited access to lessons, and ArtistWorks offers a video exchange library, 5 video submissions to a teacher (which we'll talk about in more detail in the 'teaching methods' section of the article), and access to the music theory workshop.
The 6-month plan adds 25 backing tracks and more video submissions, while the 12-month plan adds 'VIP bonus content' and unlimited video submissions. Are these extras actually worth it? Well, yes and no.
While they're nice to have, they're not the real meat and potatoes of the online learning experience, and users shouldn't feel pressured to go for a higher plan exclusively for these.
That said, for those who have decided ArtistWorks is the platform for them and wish to commit, they are nice additions that might provide a little more variety, and there's no denying that the unlimited video submissions in the 12-month plan are extremely tempting.

With that out of the way, one of the first things that strike you about ArtistWorks is their huge catalog of courses for different instruments. While this review is primarily focused on guitar, this is worth a shout out especially considering many guitarists dabble in instruments that utilize similar skills, such as mandolin, ukulele, and banjo.
The guitar courses themselves are split up into many sub-genres of guitar playing, with lessons for everything from rock to dobro and lap steel guitar.
Each guitar lesson features a professional teacher and is further broken up into four main sections: Fundamentals, Intermediate, and Advanced build-in difficulty as they progress, while the fourth, Power Tools, takes a closer look at some of the most important techniques for the course.
After reviewing all of this, it starts to become clear how ArtistWorks justify their high price point.
Teaching Methods
While there's not much to say in terms of their actual guitar lessons other than both offer sound advice that is sure to help budding guitarists and advanced players improve if they put in the effort, both TrueFire and ArtistWorks are hiding a little extra something up their sleeves.
Both sites allow users to get feedback from their course instructors by submitting videos for review.
Once submitted, the instructors review the learner's goals and playing to give them tips on what areas they need to work on to improve, along with some advice for exercises, techniques, and skills that will aid them on their guitar learning journey.
ArtistWorks take this one step further, however, with their 'video exchange library.' This library is made up of videos submitted to instructors for feedback, allowing learners to view the feedback given to others who are part of the community.
Doing so allows those who have used up their video submissions to benefit from tips given to others.

TrueFire vs ArtistWorks – Final Thoughts
Remember, the most important thing that you can do to keep progressing is to keep on playing. When deciding between TrueFire vs ArtistWorks, it doesn't always have to come down to which website has more users, or more lessons, or more courses.
Picking a platform that works for you and keeps you motivated to pick up your guitar and put in the hours is the most important thing.
With the sheer scale of the amount of variety that ArtistWorks delivers in terms of instruments, it's definitely the better option for multi-instrumentalists, families, or those who would eventually like to expand their learning into many facets of music.
ArtistWorks also offers more to guitarists within their subscription, without the need to buy supplementary courses.
On the other hand, TrueFire might be the better choice for those who are committed to guitar and bass, providing a whole world of genre-focused lessons to dive into with a fantastic catalog of additional courses that are always being updated.
As always, I'd personally recommend you at least try out the free trials and samples for both sites before making a final decision. You never know; one of them might surprise you.
Further Reading: