Key takeaways:
Is Fender Play any good? Yes, I highly recommend Fender Play as an entry-level platform to learn guitar for complete beginners. It's great for learning popular songs and basic guitar fundamentals, however, experienced guitarists will find it lacking.
How much does Fender Play cost? A monthly plan with Fender Play will cost you $9.99 per month. The annual membership is $89.99. They also offer a 14-day free trial.
Overall personal rating is 4.8/5.
If you're looking for a quick answer, I strongly recommend Fender Play to beginner guitar players. It's the perfect platform for easing into learning the guitar. Give their free trial a go below.
Ok, let's get on with the review!
You most probably know about Fender, but have you ever heard of Fender Play?
Fender Play is an online guitar learning program perfect for beginners who want to improve their guitar skills from the comfort of their homes.
The app launched in 2017, so it's relatively new to the game. However, it managed to become popular and successful very quickly.
There are several reasons for that – the Fender Play lessons include excellent quality, comprehensive content, and effective methods.
Along with the team of professional instructors, it's all you need to learn how to play the guitar online in no time!
Of course, there are both pros and cons to online guitar lessons, and their effectiveness largely depends on your personal goals.
So, before choosing an online music course, be sure it offers what you're looking for.
To help you make an informed decision, we'll show you the program's main features and benefits.
Continue reading my Fender Play review and find out why it found its place among the best online guitar lessons.
Disclosure: We are a professional review website that may receive compensation for the products we review. All recommendations are genuine and/or verified by myself!
Fender Play Overview
The Fender Play platform offers online music lessons for acoustic and electric guitar, ukulele, and bass guitar.
The program is based on linear, bite-sized lessons you can watch anytime and anywhere. The curriculum allows you to learn at your own pace and gradually improve your guitar skills.
Fender Play also has a song-based approach, meaning you can learn new skills and techniques through learning popular songs.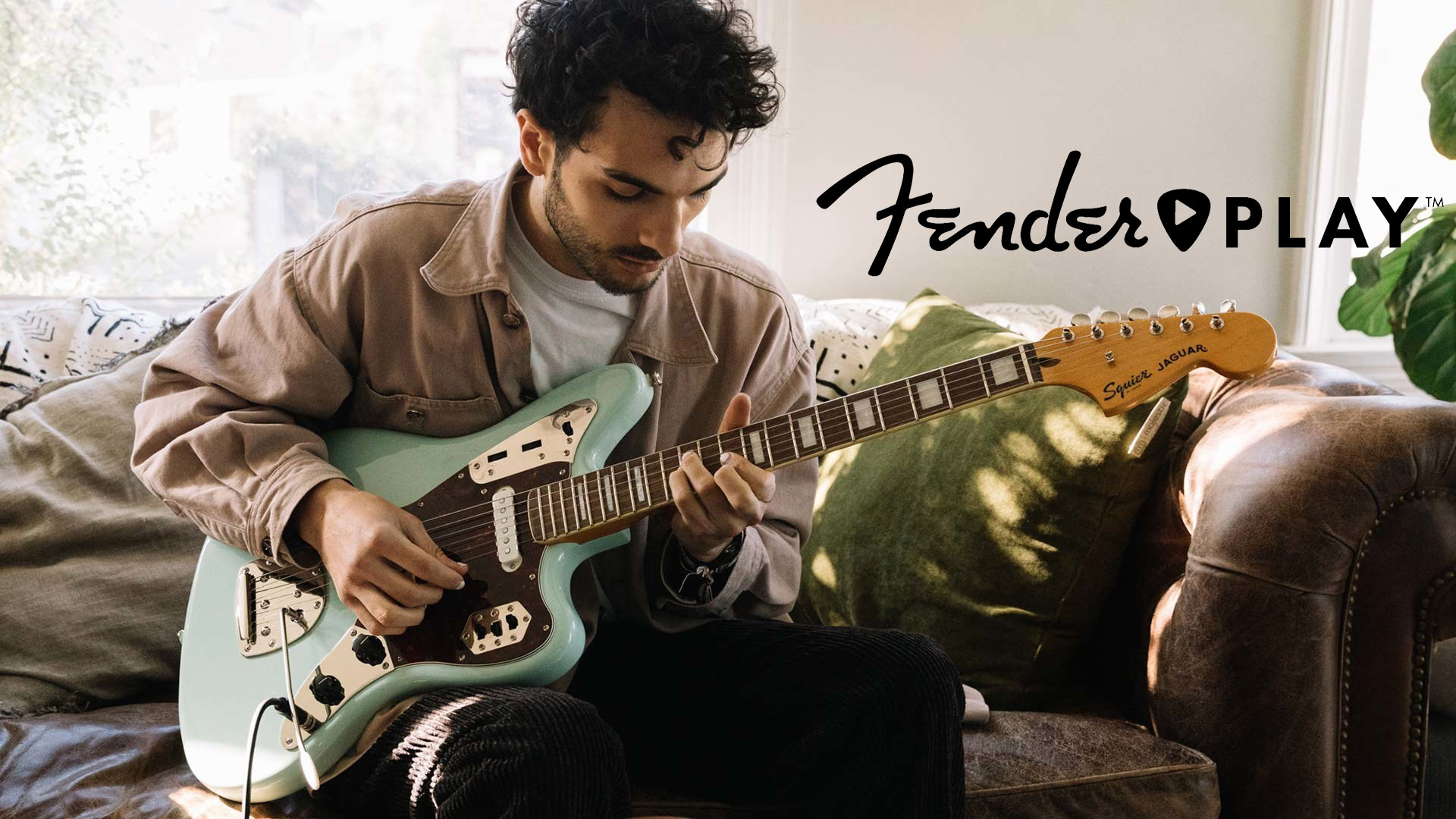 As it has several awards such as EdTech Cool Tool and CES innovation award, Fender Play managed to find its place among the best guitar lessons very quickly.
With quality content, useful features, and appealing extras, it's actually clear why.
To give you a better idea of what the platform offers and how it works, I'll now dig deeper into its content, features, and benefits.
Why Fender Play?
Fender Play lessons are very concise and easy to follow. They are therefore suitable for people of all levels and ages.
Beginners will find it especially useful – you can tell the course content has been developed with beginners in mind.
The videos and library of over 1,000 songs cover multiple genres and there are several contributing instructors that cover different playing styles and techniques.
Having in mind some other online music programs, Fender Play is also quite affordable. For $9.99 per month, you'll have access to all instruments.
If you pay upfront for a year's subscription, you can save a little extra at the $89.99 asked.
There's also a free trial option, so you'll have two weeks to see if you like how everything works.
Fender Play Features
After you choose between a monthly and annual subscription, you'll have a bunch of lessons and learning material at your disposal.
You can find Fender Play in the App Store, Google Play Store, and the web. However, it's still available only in certain countries which will hopefully change soon.
The Sign-up Process
Upon sign-up, there are a couple of questions to answer that help the app determine the best course of action for you.
Therefore, you'll get a customized course, providing lessons with content you are going to enjoy and instructors you will benefit from the most.
While not groundbreaking, this sign-up process does help narrow down some of the content, filtering out what is useless to you and streamlining things to make navigation even easier.
The following paths are available: Rock, Blues, Folk, Country, and Pop. Once you choose, you will then be greeted with a personalized pop-up screen that will take you to course 1 level 1, or you can 'explore on your own'.
You can change your chosen path at any time and even learn all 5 if you want to.
Lessons
The Fender Play curriculum is divided into short lessons that are concise and easy to digest. These short video lessons are great for anyone with a busy schedule.
There are over 1,500 video lessons hosted across 200 courses. In addition, there is a large library of songs to play through.
They cover a lot of popular genres and are constantly being updated with new releases. The Fender Play notification system will tell you personally when new content is added.
The difficulty progresses steadily and fairly rapidly, through the necessary fundamentals. The content is tailored to the genre path chosen and within it you'll learn common chords, strumming and picking styles, and popular riffs.
A typical lesson takes just 10-15 minutes with skills or exercise videos around 2-5 minutes. Riffs are taught in 3-5 minutes and chords between 1 and 5 minutes of footage.
Video Quality and Features
The videos are custom designed to suit the lesson content needs. There are split screens and close-up shots with multiple camera angles and diagrams. Many of the newer videos on the platform are 4K resolution.
The sound is great so instructors speak clearly at a good pace for learning so that you don't miss any details.
Moreover, the lessons are automatically bookmarked. You can sign in across different operating systems and save updates on each.
Therefore, you can learn on your laptop at home or watch something on the go and still keep a shared history of your progress.
When you log in, you can take refresher lessons that are relevant to the last thing you learned which is a nice touch.
Also, Practice mode and Streaks have been developed to encourage practice routines and help you form good habits.
If you log in for three days consecutively and rack up a minimum of 7 minutes in lessons, you can get a streak going.
Instructors
Although a roster of instructors is not as extensive as in some other online programs, a dozen of professional and incredibly talented musicians will share their guitar knowledge and skills with you.
Some of the Fender Play teachers are graduates of music programs at USC, UCLA, and Berklee College of Music.
They will also encourage you to achieve your goals and share valuable tips and tricks.
Fender Play Songs
The Fender Play music library is quite rich and full of songs of different genres. New songs are being added frequently. You can search them by difficulty level and genre.
There are plenty of beginner-friendly tracks as well as more difficult songs available. The level is indicated by the number of guitar picks depicted. You can choose from Made Easy, Making Progress, and Challenging songs.
Some of the artists you'll come across are Joni Mitchell, The Rolling Stones, Nirvana, and Ed Sheeran. The rock category is the most represented.
What's really amazing is that Fender Play has launched its own Songs app with over 750,000 songs. It's an excellent tool for guitarists who want to expand their repertoire or search for less popular tunes to play.
Extras
The platform provides a few useful extra features. There's a tuner for the acoustic, electric, bass, or ukelele, a glossary to help you learn the terminology, and an online chord chart.
You can also use the Fender Tone Amp Control App via Fender Play. That means you can control your amp remotely if you have a compatible Fender amplifier such as the Rumble or the Mustang GT.
When you subscribe to Fender Play by selecting their up-front annual pass, you also get a complimentary bonus of 10% off Fender products including amps and guitars.
The Community
Fender Play has an active Facebook account where some of the instructors upload weekly challenges, with Fender products and merchandise or vouchers as prizes to provide further encouragement.
There's also a Facebook group you can join. The group is created to bring new players together, connect you to your instructors, and provide exclusive content and practice tips.
As the Fender Play platform is still somewhat new, there's still space to grow when it comes to building a strong community and connecting students with their teachers.
Pros & Cons of Fender Play
Every online learning platform has its pros and cons or is designed with specific users in mind.
I've summarized the advantages and weaknesses of the Fender Play course, so you can decide more easily whether this program is something you're looking for.
Pros
Easy to use – Fender Play is really user-friendly and the website/the app is easy to navigate. It's also pretty clear to beginners as the platform creates suggested learning paths.
High-quality videos – The quality of the production is important when it comes to online video lessons. Excellent sound, multiple camera angles, and video features make the learning process smooth.
Progress tracking – The Fender Play progress tracking system really helps in maintaining a practice routine and having a sense of accomplishment.
Skilled instructors – The team of instructors contributing to Fender Play is truly professional, talented, and enthusiastic. As you'll be learning by yourself, it's important to have someone competent and inspirational on the other side of the screen.
Cons
Lacks advanced content – As the Fender Play content is mostly beginner-oriented, more experienced players will not find a lot of lessons that will bring them closer to the expert level.
Not available in all countries – The Fender Play program is still not available in all countries.
No one-on-one lessons – Some online music courses offer the possibility to have individual online lessons. One-on-one lessons would be a great way of getting direct feedback and communicating with the instructors, but Fender Play doesn't offer many options to reach out and get a more personalized opinion.
Factors to Consider When Deciding if Fender Play is Right for You
If you're still wondering if Fender Play is a good option for you, let's take a look at some of the factors that might affect your decision.
Lesson quality
Fender Play lessons are short and concise. They have excellent production quality, and the teachers are friendly, talented, and easy to understand. And with split screens, multiple camera angles, and close-up shots, you won't miss a note.
The program also offers refresher lessons every time you log in, which can be very useful.
Structure and curriculum
Fender Play lessons are delivered in a linear format, but you'll have the freedom to choose your own learning path. Paths are based on genres, which is great for learners interested in a specific style.
Everything is well-organized, and the difficulty of lessons progresses rapidly but also not too quickly.
Nevertheless, the curriculum covers all the important concepts, chords, and techniques you'll need to gain basic guitar skills.
Platforms and devices
You can access Fender Play on all your devices. It's available on computers as well as Android and iOS devices. The Fender Play app is very convenient because it allows you to learn anytime, anywhere.
Songs
The Fender Play song library is extensive. You can search for songs by genre and difficulty, and new songs are being added frequently. The song catalog offers many popular guitar songs. But since there are more than 700 songs in total, you can also come across some lesser-known tunes.
Price
You can get Fender Play for $9.99 a month (monthly subscription) or for $89.99 (annual membership). There's no money-back guarantee, but if you want to test it out, they offer a 2-week free trial.
Extra Features
Fender Play offers a variety of tools and features. For example, you can use the Fender Tone Amp Control App. Then there's a tuner for the acoustic, an online chord chart, a glossary, and so on.
Who is Fender Play For?
Fender Play is for everyone searching for a fun and effective way of gaining core guitar skills. It's a quality program that utilizes modern learning resources to offer a productive yet relaxed learning environment.
However, Fender Play is the most beneficial to beginners as it offers well-structured learning paths.
It's also a perfect choice for anyone who has a desire to learn how to play several instruments without having to pay a separate subscription fee.
Similar Platforms
When it comes to similar platforms, Guitar Tricks is one of the best. It offers comprehensive, high-quality video lessons suitable for all levels of experience.
The platform has a professional team of instructors, an effective Core Learning System, and the possibility to have one-on-one online lessons.
TrueFire is also a very popular guitar learning program. It has a large number of lessons and offers a variety of genres.
One of the benefits of TrueFire is an option to record yourself playing and receive personalized feedback. The app also has some other useful features such as In The Jam experience.
Although you'll learn a lot from Guitar Tricks and TrueFire, Fender Play is ideal for newcomers who don't want to deal with too much information in the beginning.
Moreover, the Fender Play songs app offers a truly extensive library which is fantastic for anyone wishing to learn songs.
Read our alternative platform comparisons:
Fender Play Review – Final Thoughts
Overall, I think the Fender Play platform offers a fun, engaging, and trustworthy program that helps beginners gain basic guitar skills and intermediate players learn some new techniques.
Its bite-sized lessons taught by professional musicians will keep you interested and eager to learn more, and the videos' high-quality production and features will make the process so much easier.
Although Fender Play doesn't offer a lot of options to communicate and get personalized feedback, it compensates with its vast music library, impeccable quality, and customized learning paths.
And as it's been on the market for only a couple of years, there will surely be upgrades that will make the app more interactive.
All things considered, Fender managed to create an online learning program that really does live up to its name, and is extremely valuable to newcomers of the guitar.
FAQs
Is Fender Play effective?
Yes, Fender Play offers effective lessons tailored to beginners. They are filmed with great quality, and they are taught by experienced instructors. The program also offers useful tools and options.
Does Fender Play teach you to read music?
Fender Play teaches all the basics of playing guitar including reading tablature. There are no in-depth music theory lessons, but important concepts are presented throughout the lessons.
Is Fender Play for beginners only?
The Fender Play program has been developed with beginners in mind, but it's also suitable for learners with some experience or guitar players who want to brush up on their knowledge. It's also useful for intermediate players who want to expand their repertoire.
Is Fender Play still free?
Fender Play offers a free 2-week trial. After that period, you need to subscribe to gain access to the whole program.
Does Fender Play teach bass?
Yes, Fender Play also teaches bass. The program offers lessons covering essential bass guitar skills such as pick and slap techniques, hammer-ons, rhythm, and so on.
Is Guitar Tricks or Fender Play better? 
Whether you should pick Guitar Tricks or Fender Play depends on your goals and preferences. Both programs offer excellent production quality and great teachers. However, the Fender Play course is aimed at beginners, and Guitar Tricks offers content both for beginners and advanced players.