Disclosure: We are a professional review website that may receive compensation for the products we review. All recommendations are genuine and/or verified by myself!
Do you often find yourself singing in the shower without meaning to, or maybe performing with the artist on your radio while driving across town? Perhaps you're the type of person who hums while going about your day.
If you can relate with any one of these, or maybe all, you have a talent that you need to hone! If not, and yet you want singing to be part of your skillset, then, by all means, read along and find out how.
For the longest time, singing has been thought of as an ability that you must be born with. Because if it isn't there right from the start, there is no reason why you should go looking for it or even try to coax it out of you.
This belief is where most people have it wrong, though. You can start wherever you are on the learning to sing journey and move forward in your proficiency with a bit of training and practice! All you need is an excellent partner to your journey, and you're all set.
Now, you may ask yourself, how can I enroll in singing lessons with the ongoing pandemic? Luckily, like all other skills, lessons for this particular talent have also been brought online, and there are a plethora of online singing lessons to choose from!
But, look no further because one of the top online voice lesson programs that will help bring out and enhance your singing skills is here – Singorama.
Check out my Singorama review below!
What Is Singorama?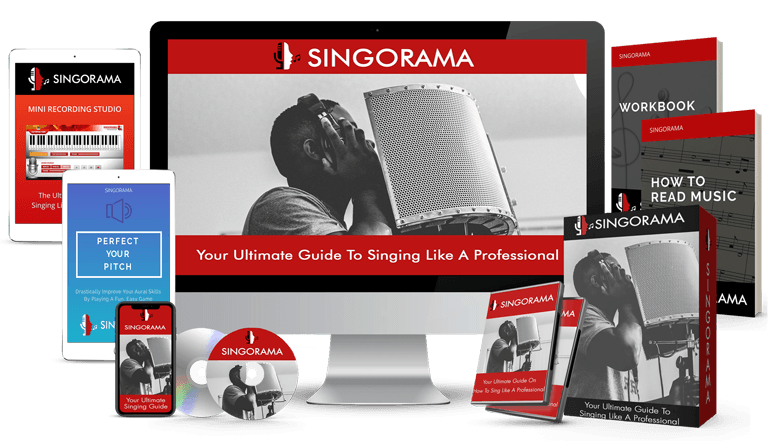 Singorama is one of the freshest singing courses available online offered to those who want to learn how it is to become a superb singer, and to people who wish to give their singing career an exciting jump start.
Before you decide on whether this is for you or not, let's get to know what Singorama brings to the table first.
Singorama Review: Online Program
This course has audio tutorials, 28 in all, but they are categorized into six modules. By the sheer number of lessons, it's quite clear that they take their job seriously and they mean business when it comes to teaching you how to sing with flair.
Let's have a look at the individual segments of their program in greater detail.
Introduction (Lessons 1-3)
The course kicks off with a lesson that will give you an idea of where you are in your vocals. They will have you go through regular voice warm-ups and teach you about taking care of your vocal cords by practicing breathing skills and correct posture when you sing.
This module includes three lessons as they slowly ease you into the program. It allows you to get to know your voice, teaching you how to strengthen it, and in the last part, introducing you to how you can project your vocals with incredible confidence through the loaded resonance system.
What a packed first module, right? We are just getting started, though. The point of this introductory segment is to make sure that you know how to avoid strain when you sing, which you will be doing a lot of as you dive deep into the program.
Vocal Skills and Techniques (Lessons 4-8)
This part includes five exciting lessons that will walk you through various methods in singing and will teach you how to improve your tone and your pitch. If singing like a pro is your goal, then bridged vocalization will surely benefit you.
Also, lesson 7, which focuses on bad habits that you need to be aware of so you can do away with them is such a hit amongst current students because everyone wants to get rid of these harmful practices that we have taken up for as long as we can remember. It's about time that we let them stay in the past where they belong!
In lesson 8, it gets even more interesting as you talk about the fantastic vocal technique of extrapolating your range! And you thought that your singing ability today was all there is. In reality, as long as you are teachable, you don't have to stop getting better at your craft.
Theories in Music (Lessons 9-11)
Being able to sing and learning how to improve at it is great. However, you also have to be in the know about theories behind the music that we enjoy today. This way, you get expertise in not only your singing skills but also the history and fundamentals supporting it.

For you to be able to execute your vocals well, you need to learn how it is created in the first place, deep inside your own body. These lessons give you knowledge on signatures (time and key), rhythm, the system of Solfege with its major and minor keys, and also how to read music with its intervals and Solfege.
Musical Stylings (Lessons 12-14)
Now that you have pretty much mastered your basics and have learned some techniques, it's time to discover and enhance your singing style. These lessons will pave the way for you to be exposed to various genres of music so you can find out which one will fit your unique voice.
However, despite picking out the one that will suit you best, you will be able to sing all sorts of music, nevertheless. This module will show you how to become a versatile singer, one who can be a jack of all genres but can still specialize in their own stylings!
This part is what students will enjoy the most given that this moment is when they will truly shine as a singer.
Song Breakdown (Lessons 15-19)
If you want to be an all-around, holistic artist, it's not enough that you have the talent to sing even if you have perfected it. You also have to know the workings of a song, which will help you to sing them the best way possible.
Different songs have varied vocal requirements, so you have to understand what a piece needs from you as a singer. This part is where you apply what you have learned as you try out songs that you have not sung ever in your life. It will test your abilities and stretch them beyond your limits!
The lessons will expose you to a lot of songs and you will examine their wordings, general mood, personality, and the emotions evoked by singing them. You will even get to write your own pieces so that you can have an idea of the perspective of a composer.
You will go through several completed songs in the latter part of the module to put to the test what you have so far studied.
Building your Musical Career (Lessons 20-28)
If you have enrolled in Singorama's program, or seriously considering it, chances are that you are not just in it to have fun or to check it off your list. You took the course because you want to make a career out of your singing skills.
The last leg of the course focuses on bringing your singing prowess out into the world! The program shares tips and insights never before seen in any online music program. There are lessons to help you start as a singer. They include how to shine in your auditions, overcome typical problems as an artist, and perform live in front of a crowd.
You will also gain mastery over stage fright, learn how to work with a band, and even write your own songs.
All in all, Singorama provides a comprehensive program that will truly propel you on your journey as a singer! Enrolling in the online voice lessons will not only give you a solid foundation in music but will also assist you as a beginning artist as you make your way into the music industry.
Right now, you may be thinking, who created these fantastic online singing lessons? Who owns the brain that gave birth to it?
The Genius Behind the Program
Melanie Alexander hails from Australia and is a TV personality, singer, composer, and vocal coach. She developed Singorama after years of being in the music industry and having a deep and broad understanding of how everything works.
Beginnings
If you're familiar with the band, "Girlfriend," in the 1990s, you will have come across Melanie. As a young member of the group, she remembers having trouble managing her vocal styles and needing guidance on how to do it.

Despite the challenges, she believed that if you just put in the hard work, you can be successful in your singing career. Her "Take it from Me," single, still with the band, was number one in the charts, along with four others in the Top 50 hits. This accolade is a testament to her commitment to improving her vocals and overcoming difficulties.
Though the band did not stay together over the years, Melanie kept all her learnings dear to her heart and longed to share them with anyone willing to learn and ready to work hard.
Branching out
Melanie also dabbled in the kid's genre after her stint with the band and became part of "The Maestro's." She even learned swing music when she worked with the "Australian Swingers," and she traveled around the globe as she engaged in the world of jazz.
TV Hosting
Because Melanie is not only talented as a singer but also has a distinct style that people have come to love, she started hosting television shows as well. She shared the same passion in her hosting gigs as with her singing, which she said requires a similar discipline.
Why does it matter to know who the creator is behind Singorama? Because it's true what they say that a singing course is only as good as the one who developed it.
With Melanie Alexander's vast experience, unquestionable discipline, and her profound passion for helping those who are willing to make it in this industry, it's no surprise why Singorama became one of the best online singing programs today.
Pros & Cons of Singorama
A comprehensive Singorama review wouldn't include a pros & cons section…
Let's delve into the pros and cons of the program to have an objective view of Singorama and ensure that your final decision is a result of a well-thought-out and informed choice.
Pros
The program is not time-intensive
Despite the countless lessons included in the course, would you believe that it only takes 15 minutes of your time each day for you to complete the program? It seems unbelievable, right? But it's true! You will move forward from a newbie singer to a professional by merely spending this much time every day.
It has a comprehensive lesson coverage
Most online singing courses available today cannot promise to teach both beginning singers and advanced artists, but Singorama caters to both ends of the spectrum. You never have to worry about where you are in your vocal abilities, sign up to the program, and begin learning! Your lessons will start broad but will get increasingly detailed as you move forward.
It has a TON of lesson materials
Singorama has both physical materials and digital ones, whichever you prefer. Apart from these, it also has a workbook (in PDF), a studio (for short recordings), and a software (Perfect Pitch) so you can monitor your progress throughout the course.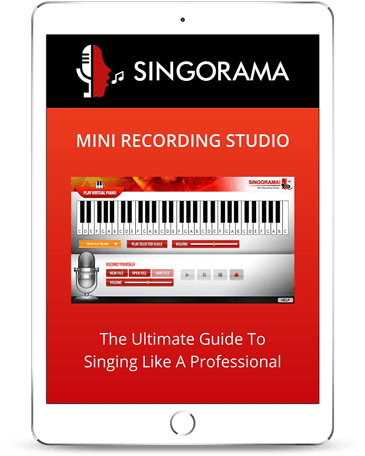 As you know, online courses have difficulty in providing feedback because of the nature of the platform, but, the software addresses this since you can listen to how your voice improves over the various lessons and vocal exercises that you go through.
The combined work of the online modules, your workbook, and vocal exercises provided will truly bring out the artist in you!
Singorama offers to return your money
The program has a guarantee to return your money if you are unsatisfied in any way with the course. Despite this offer, people rarely take it since they find the lessons quite exciting and engaging at the same time, and they want to push themselves and reach their highest goals with the assistance of Singorama.
Cons
No program is perfect, and Singorama is not entirely free of its share of disadvantages. Though most of them can be dealt with relatively quickly, they remain to be a concern for some people. So, let's get to them.
It is a bit pricey
The physical workbook of Singorama is on the expensive side. Though there is the option to avail of the digital product, some people still opt to learn through a tangible material.
There are too many lessons
For some people, 28 lessons may be too much. Not everyone will be ready to go through such an all-inclusive course that will require them to complete a considerable number of studies.
It needs a fast and steady internet connection
Suppose you have an undependable internet or you're always on the go and not readily logged on to the web. In that case, the online lessons may be a problem since all the materials are accessible only when you're connected. Moreover, if you're a busy bee, and you cannot afford even the daily requirement of 15 minutes to be online, the course will not work for you.
It is mostly an audio program
Singorama is mainly an audio course, and this may be a concern for those who are visually inclined in terms of learning online. Despite this setback, the program works because of the fantastic material prepared by the program creator.
There is no feedback provided
As mentioned earlier, online courses lack a direct relationship with a physical, vocal coach who can give critique, words of encouragement, and areas for improvement as quickly as when you're face to face. However, Singorama has created a recording studio that you can use to track your improvements as you progress in the lessons.
Despite the reality that this list of downsides to the course exists, I think we can safely say that Singorama's many upsides still surpass them.

There are several ways that you can work around the disadvantages if you are genuinely passionate about your singing, and you sincerely want to succeed with the help of Singorama.
Final Thoughts
I hope you've enjoyed my Singorama review…
While Singorama can help you whether you are a struggling beginner or a serious artist, the program is designed only for people who have the dedication to perfect their craft. It is not a course that will transform you into a pop star overnight, but you can expect it to show you the way.
The program will need you to be diligent, disciplined, and self-motivated as you will be engaging in audio lessons every day and will monitor your improvements over time.
The great thing about Singorama is that it was created with you in mind because as mentioned earlier, the founder went through the very same things that any singer goes through when starting out.
After reading my Singorama review, before you make up your mind, it may help to ask yourself these questions, to know if Singorama is the right singing software for you.
Are you itching to discover more about music and the industry?
Do you want to become an outstanding singer or a songwriter?
Are you willing to put in the work and be teachable to achieve your goals and dreams?
If you have answered YES to all of the above questions, then Singorama is more than likely to be the best online singing program for you.