Short of biting the bullet and hiring a teacher or going to music schools and guitar shops in order to get lessons, there was once a time there were no other options out there for enthusiastic guitarists.
However, the times they are-a changing, and through the power of modern technology, lessons and tutorials for guitar can be found in their millions online.
One major player in providing online guitar lessons is ArtistWorks.
In this ArtistWorks review, we're going to be breaking down the platform to tell you what it's all about, and hopefully, help you make a decision as to whether this platform is actually worth it to learn how to play the guitar.
Want to learn from our favorite online guitar lesson platform? Start your free trial with Guitar Tricks here!
The Pros and Cons of Online Guitar Lessons
When considering buying online guitar lessons, it's important to first weigh up the pros and cons of doing so before making a decision. Think about what you really want from your learning experience and set your goals and expectations accordingly.
Pros
·Can take guitar lessons from the comfort of your own home
Generally cheaper than hiring a teacher
No pressure from others around you
You are able to work at your own pace
Cons
No real-time feedback from a teacher
Harder to learn from others
Need to be self-motivated
Quality of teaching may suffer online due to no personalization
No 'physical' feedback – a teacher won't be able to position your fingers or help you position your strumming hand (could be a pro for some people)
A teacher can hear you better in a real room than through a video or recording
There are many other factors to consider, but these should at least give you a starting point in making your decision.
What Is ArtistWorks?
ArtistWorks is an online learning service for musicians, founded in California in 2008 by husband-and-wife team David and Patricia Butler.
The idea came to David after retiring, when he started his journey as a musician trying to learn Jazz, finding books and other resources did not provide adequate information or instruction to learn effectively.
His aim when developing the site was to create a platform on which learners have sufficient access to professional musicians for quality guitar lessons and tutorials.
By giving students access to professional feedback through his patented Video Exchange Learning Platform, David seems to be succeeding in his mission, with more than 32,000 guitar lessons and 35 professional instructors with fairly big names such as Paul Gilbert, Keith Wyatt, and Martin Taylor among them.
While they do not share their subscriber numbers with the public, they have stated that it's in the tens of thousands, so it's pretty clear that they must be doing something right.
Registration and Prices for ArtistWorks
Before we dive into the real meat of the platform, let's go over the first step in actually being able to utilize it – registration and payment.
Registration on ArtistWorks is fairly easy. All you have to do is enter your name, email address, the instrument you want to learn to play (or already play), and style (which is basically the genre that you prefer or want to learn).
Though there is no free trial they do offer some sample online lessons which will be emailed to you along with a free video exchange system. If you do want to actually try out their full service, you're going to have to pay. And it's not cheap.
According to multiple online reviews, your subscription also auto-renews, so be careful. If you do decide to buy their shortest subscription to try out, make sure you cancel straight away if it's not to your liking.
Prices for Artistworks are:
$105/3 months
$179/6 months
$279/12 months
Here's what they offer with each subscription level.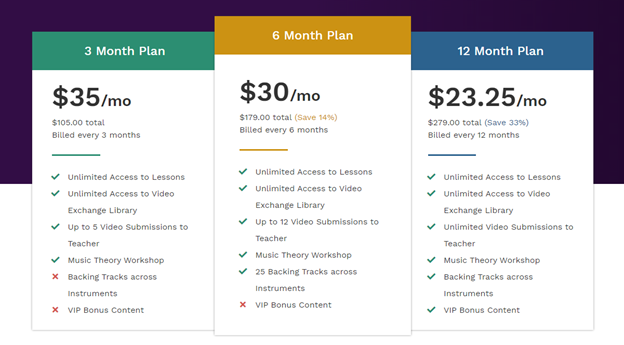 As I said, it's not cheap. Expecting users to pay that much for membership without offering a short-term option (like 1 month) is a bold move.
Though the adult beginner acoustic guitar and jazz improve courses can be purchased for a month for $19.99 and $29 respectively, an extra video exchange costs a huge $40 and there's nothing of this kind for advanced guitarists.
Furthermore, at $40, then chances are you'd be able to find an actual teacher, even if just for a 30-minute session. Given the high price point of the service, it's also disappointing that full and unlimited access is not given to users on any subscription plan, but this is expected to an extent and is seen on most guitar learning sites (albeit for much cheaper).
However, they do appear to be aware of this and are ready to show users exactly what they have to offer, sending over a video lesson featuring one of their teachers (based on your instrument and style preference) the second you hand over your name and email address.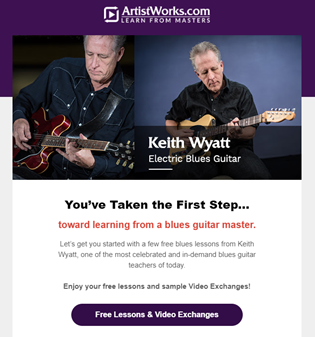 Large initial price injection aside, let's look into their actual teaching programs and try to discern whether the quality of their guitar lessons lives up to the size of their membership fee.
ArtistWork's Guitar Courses, Content, and Patented Video Exchange
There are a number of courses and programs available on ArtistWork's platform. While we're only focusing on guitar for this review, it's worth noting that they offer guitar lessons for a staggering number of instruments. At least you know if you ever get bored of guitar or want to move into more instruments, there are a lot of options available for you.

Guitar Courses
Currently, the available guitar courses on ArtistWorks are as follows:
Acoustic Guitar: Adult Beginner – This course lays the groundwork for learning acoustic guitar from chords to strum patterns and fingerpicking, taught by the founder of ArtistWorks himself.
Electric Rock Guitar – Taught by Paul Gilbert, this course covers everything from finding tone up to strumming accuracy and chords.
Electric Blues Guitar – Keith Wyatt goes over the fundamentals of getting that blues sound through essential chords and simple to complex rhythms and phrasing.
Acoustic Flatpick Guitar – Bryan Sutton introduces the classic bluegrass sound achieved by Flatpicking.
Electric Country Guitar – Learn all the techniques, skills, and licks that set country music apart from Guthrie Trapp.
Fingerstyle Jazz Guitar – The legend himself, Martin Taylor, shares his knowledge on the flow, pacing, and influences of fingerstyle jazz guitar.
Acoustic Classical Guitar – Jason Vieaux takes you through one of the most difficult styles of guitar to learn, starting with basics and alternation and leading all the way up to advanced pieces by Bach and Giuliani.
Acoustic Dobro and Lap Steel – One of the more interesting courses on the site, taught by Andy Hall, begins with the history, parts, and basics of the dobro, eventually leading to dobro and slide renditions of famous songs such as 'Folsom Prison Blues.'
Jazz Improv Guitar – Chuck Loeb takes you on a journey through the world of jazz improv, teaching essential skills on improv patterns, techniques, and interval ear training.
Given their choice of course offerings, they definitely lean towards a slightly older crowd which, in my opinion, is a great thing. While many of these courses do have some cross-over in what they teach, there is a lot of content to get through including theory, practical skills, chords, scales, and actual songs.
A major plus for them here is that they also offer courses, such as the Dobro and Lap Steel one, which are not found on any other platform. The fact that they don't lean too heavily towards rock, metal, and other heavier styles that other sites revolve around might also be attractive to a lot of learners.
Available Content
As mentioned earlier, the number of resources that you're actually given access to on ArtistWorks is somewhat limited by the membership that you're willing to pay for.
While all users are given access to the entire catalog of online lessons, video exchange library (more on this later), and the music theory workshop, the 3-month membership is only granted 5 video submissions, along with no backing tracks across instruments and no VIP bonus content.
Meanwhile, 6-month subscribers are given 12 video submissions and 25 backing tracks across instruments. Only 12-month subscribers are given the full package – unlimited video submissions, all backing tracks across instruments, and 'VIP Bonus Content'.
Now, I understand keeping content exclusive for long-time subscribers. The limited number of video submissions for users on 3 and 6-month subscriptions is a little bit of a letdown considering the video submission and exchange is probably the main draw of the site.
While keeping the number of submissions down does make sense from the company's point of view – reducing backlogs, giving teachers more time to produce lessons, etc. – it's not great from the perspective of the learner.
Learners on the 'cheapest' subscription are given 5 submissions in 3 months. 5 pieces of feedback over 3 months is not a lot at all, especially considering real lessons give you constant feedback for at least 30 minutes at least once a week.
ArtistWorks' Video Exchanges
ArtistWorks' video exchange is one of the best feedback systems out there for any online guitar teaching platform. Sure, other sites offer similar features but this one is a little bit different.
There are two things learners can do on the video exchange platform; they can submit videos directly to teachers for review, or they can submit videos to the library to share with other guitarists.
Paul Gilbert has used the Video Exchange System to help thousands of players achieve their personal music goals over the last six years. Each practice submission receives detailed feedback from Paul, guiding the student toward improved performance.
The 'video exchanges' (sharing with a teacher) use up submissions and are still public, allowing other guitarists to learn from your mistakes and feedback, and vice versa.
As such, running out of video exchange submissions is not absolutely detrimental, as there is a whole library of previously submitted exchanges for learners to browse through.
Teaching Interface
There's isn't really much to say about the actual teaching interface. It's not particularly remarkable, but it's not bad either. Lessons feature a video of the teacher explaining the topic of the lesson, with a lesson transcript, information about the course, and a bio of the teacher just below the video.
The only thing that could really be improved about the lessons is an on-screen tablature. While the TAB can be downloaded and printed off, putting the lesson transcript directly under the video feels like a missed opportunity.
The transcript would have been better off being left as subtitles on the video, with the TAB sitting underneath instead. This would have made it much easier to follow along with and requires less work on behalf of the student. Even putting the tab as an overlay on the video would have been an improvement.
The standard of teaching itself is excellent. No better or worse than other platforms out there, however, so what you're really paying for with ArtistWorks is the video exchange platform.
ArtistWorks Review – Is It Worth It?
For most guitarists – not really. While the video exchange is fantastic, it's not a necessity, it can at times leave users who pick shorter subscription plans feeling quite heavily penalized.
A major selling point for online guitar lessons is that they're generally much cheaper than hiring a real teacher, and while ArtistWorks is cheaper on the face of it and doesn't require payment for additional courses (as long as you buy a subscription) if you do decide to pay for more video exchanges it has the potential to actually cost way more than a real teacher for less actual learning.
If you're really into those more unique courses, it might be worth it for you. However, if you just want to learn rock, or how to play basic guitar chords and patterns, there are plenty of other sites that do a better job.
I would normally recommend users try a free trial, even if they don't like the look of a platform, but since ArtistWorks fail to offer one I cannot in this case. Still, you might get a kick or two out of the free video exchange submission.
ArtistWorks have its niche, and while they're probably not on their way to becoming the biggest or best platform out there, it seems to work for them.
Want to learn from our favorite online guitar lesson platform? Start your free trial with Guitar Tricks here!