While DJing may be the coolest thing, mastering the craft is hard. It's no surprise that many have turned digital to make it less strenuous and a whole lot more engaging.
The modern DJ relies heavily on technology to incorporate various music elements for a vibing party. It calls for a keen ear, tactile hardware, and optimal DJ software. And the great news is that we have handpicked the best digital DJ software where product features match one's high expectations.
Mind you, it was not an easy task considering the extensive list out there, but we've managed to pare it down to seven great options, so you don't have to.
We'll cut to the chase and give our Editor's choice, Ableton Live. This popular DJ software has been making the rounds among the hottest club DJs in the industry with its highly creative and intuitive design as well as reflexive abilities.
If you're just beginning to dabble in mixing, the aptly named Mixxx will be your go-to DJ program; it's free and open source. The software is user-friendly and has several tutorials for DJ newbies. Needless to say, you should select your software according to the type of DJ you are and what you're willing to invest in.
We have included a buyer's guide towards the end of the article to get down to the basics. In the meantime, read on, and hopefully, you can narrow down our list to find the best DJ software for you.
Our Top 7 Picks for Best DJ Software
Ableton Live – Overall Best DJ Software
Virtual DJ – Best for Beginners
Native Instruments Traktor Pro – Best for Visuals
Serato DJ Pro – Best for Experienced and Pro DJs
Pioneer Rekordbox – Best for Livestreaming
Algoriddim Djay Pro – Best Software for Mobile DJs
Mixxx – Best Free DJ Software
1. Ableton Live – Overall Best
As the Editor's Choice for overall best DJ software, Ableton Live has desirable features that are must-haves for many DJs; it's reflexive, flexible, and creative. Ableton Live provides the spontaneity of DJing whenever you are composing music or playing live to your audience.
Since its launch in 2001, the software has evolved into one of the best DJ apps in the music market. From top-notch music tracks to a clip-based automation system, Ableton Live has much to offer even for revered artists. The app stands out among its counterparts, particularly in the music arrangement and composition department.
Ableton Live is high on our recommendation list for DJs who like to pre-plan their set of vocals, loops, and remixes. Loopings will be deemed useless and annoying without proper execution instead of entertaining your crowd. Aside from these, the Ableton Live app supports prolific productions and a variety of MIDI hardware.
If you're a DJ on the go, you might want to skip Ableton Live, though. Ironically, it is not the best, especially if you're the type who performs live frequently. It has difficulty keeping up with quick changes, making it time-consuming to use.
While it could use some improvement speed-wise, Ableton Live makes up for its simple-to-use and polished interface. The design is uncomplicated, and the fonts are reader-friendly with two main view setups: Session and Arrangement. Editing is a lot easier because you can include everything on a single screen.
Ableton's MPE support enables minute control on various instruments and pitch change of individual notes. You can change any format into MIDI. With the suite version of Ableton Live, you get access to additional effects with an excellent Glue compressor to create exciting mixes. However, the mixer itself could be much better.
The Ableton Live also offers a plugin delay compensation feature that allows transport-synced plugins like Cabelguys Sharperbox to de-sync when you insert after-effects with time gaps.
Advantages of Ableton Live
Zero subscription charges
Free 90-day trial
Excellent automation
Unlimited audio tracks
Intuitive interface
Unique Wavetable synthesizer
Simple and easy navigation
MIDI Polyphonic Expression (MPE) support
Suite version comes with inspirational sample materials
Digital audio workstation functionality
Drawbacks of Ableton Live
No feature correcting pitches
No notation view
Zero track comping
DJ mixer needs improvement
Ableton Live offers three versions of their app – Intro, Standard, and Suite.
Intro:
Priced at $99
Access to 4 simultaneous inputs while recording
21 plugins for effects
2 sends & returns for running multiple sounds using the same effect
16 MIDI and Audio tracks
8 scenes
4 virtual instruments with a 5GB instrument set
Standard:
Priced at $449
Access to 256 inputs
12 sends & returns
Capable of converting audio tracks into MIDI
Endless track counts
34 Audio effects count
10 Gigabytes of sounds
Five instruments
Suite:
Priced at $749
Access to sample packs that stimulate orchestra mockups and an analog synthesizer
Max sonic creation settings
70GB library
15-instrument set
55 Audio effects
2. VirtualDJ – Best For Beginners
VirtualDJ may not be as popular as the Traktor Pro or Serato DJ Pro, but it boasts reflexive and flexible software. And the best part is, it is free for non-professional use. VirtualDJ is an excellent choice for DJ newbies who are still in the learning stage and practicing their mixing skills before going the paid route.
As one of the best-selling Cross DJ software for budding and aspiring DJs, VirtualDJ makes it easy to master the basics. It helps you polish your techniques and become more creative with tracks.
VirtualDJ has recently stirred a lot of buzz in the DJ community with its new "Real-Time Stem Separation" feature. You can isolate drums, basslines, or track pieces using fade-in and fade-out audio without needing an official instrumental or acapella. This feature also allows muting and soloing any of the five distinct stems such as Hi-Hat, Vocal, Bass, Instrument, and Kick.
In the beginning, only Traktor had this stem feature, but it wasn't long until others followed suit. While in use, you will see different reds and blues that denote which stems and pieces of the tracks are activated or muted.
Aside from the impressive stem separation technology, VirtualDJ also stands out with its automatic key matching ability. It is a fantastic tool that enables music experimentation by jointly throwing in tracks.
On the other hand, you may encounter difficulty coming up with remixes on Virtual DJ. This software relies on its background automation ability that somehow prevents you from exploring deeper. Since it does not have native instruments, it lacks tone in its track sound quality.
Advantages of VirtualDJ
Free for non-professional use
Reasonable charges
Real-time stem separation feature
Numerous tutorials and guides
Excellent choice for DJ beginners
Upgrade to a paid subscription anytime
99-deck capacity
Laptop-friendly
Option for video skins
Automated tool for key matchings
compatibility with different DJ controllers
Excellent video mixing abilities
Standalone, no need to buy expensive hardware
Perfect and smooth transition between songs
Instant BPM (Beats Per Minute) detection
Drawbacks of VirtualDJ
Not a good support for turntables
Not the best fit for pros and live DJ performers
No specific DJ controller
3. Native Instruments Traktor Pro – Best For Live Performances
You might already be familiar with the Native Instruments Traktor name, given its exceptional journey of more than 20 years in the DJing industry.
The company finally updated its DJ software in 2019 by placing the browser at the bottom, effects at the top, decks are on the left and right sides, and the mixer right in the middle. Such improvements make the Traktor Pro easy to use and highly reliable DJ software.
We chose Traktor Pro as the Best DJ Software for Live Performers based on its smooth and polished user interface. It does not fail to impress us with its stunning waveform color tracks and responsive buttons like Cup, Cue, Rev, and Flex. The overall design is uncomplicated and slips right into a DJ booth.
However, Traktor DJ Pro has fewer special effects than Ableton Live; therefore, it seems more suitable for the classic DJ than a music producer.
Nonetheless, it has dazzling visuals; the colors are immersive and fun, making the music-producing process highly entertaining. The interface is organized with a track library that shows different colors whenever you create music. All of its artistic elements are very appealing.
Advantages of Native Instruments Traktor Pro
Free demo
Simple to use
Low CPU utilization
2GB performance tones and cost-free remix sets
User-friendly controller functions
Updates frequently with excellent features
Complete screen with the single deck preparation view
Accessible mixer without a laptop using Traktor Kontrol S4 MK3 connection
Free Stems like techno, house, dubstep, funk, and trap
Distinct mapping through Kontrol S8 & Kontrol D2
Track control via parallel waveforms that allow up to four decks at once
Drawbacks of Native Instruments Traktor Pro
Free demo is limited to 30 minutes
Current Traktor users are required to pay for upgrading the facility
No tag customization
No Smart Playlists
Restricted deck levels
4. Serato DJ Pro – Best Pro Software
Serato DJ Pro is the most versatile and stable DJ software on our list. It is easy to use and has outstanding sound effects. However, you might be bummed to know that it doesn't come with a free version. But for those who want to try first before buying, there is a stripped alternative: the Serato DJ Lite.
We have declared the Serato DJ Pro the Best DJ App for Professionals because of its highly advanced functions and abilities. The Serato DJ lite software is super efficient with powerful functions like slip mode, key shifting ability, eight saved loops, eight-colored hot cues for every deck and track, izotope-powered effects, and many more.
Unfortunately, the software does not include complete MIDI mapping. Another thing that had us thinking was its inability to work with non-Serato instruments.
Advantages of Serato DJ Pro
Access to a free 14-day trial for Serato DJ Pro
Smooth high-res multi-functional UI
Mix and blend tracks with two sample decks in Practice mode and highly accessible cue points
Access to six expansion packs
Four-bank sampler lets you load eight samples every time or eight cue points
Unique effects powered by iZotope
High stability
Use of a supported controller, mixer, or as a part of a monthly subscription pack
Hardware-free crossfader
Drawbacks of Serato DJ Pro
Limited hardware compatibility with non-native DJ controllers
Fewer functions compared to its counterparts
Fewer updates due to its high focus on stability
Does not allow complete MIDI mapping
Unable to map jog wheels and shift buttons
5. Pioneer RekordBox – Best for Livestreaming
We picked Pioneer RekordBox as the Best DJ Software for live streaming because of its strong support for cloud syncing as a 'pay-to-play' DJ program. You can organize and manage your track playlists and remixes on many devices via Dropbox; you can even use the iOS app to DJ via XDJ/CDJ gear.
The Pioneer RekordBox allows you to automatically upload tracks and playlists since you can sync the entire library. Each music track gets updated every 30 seconds and stored on their servers; thus, it keeps your playlists updated on all devices.
This Pioneer Rekordbox DJ software is mobile-friendly, making it a perfect companion for live streamers; it became even more popular during Covid-19 restrictions when clubs were closed. The only drawback we can think of is its lack of stability given its Pioneer framework.
The software has four subscription tiers – Basic, Core, Creative, and Professional.
The Basic version is free
The Core subscription is priced at $9.99 every month, with a free 30-day trial offer.
The Creative version, priced at $14.99 every month, also gives you a free 30-day trial offer. This tier supports cloud syncing within four devices: iOS, Android, Windows, and Mac.
There is also a Professional Mode available at $29.99 per month with unlimited cloud storage and more advanced features.
Advantages of Pioneer RekordBox
Ideal for YouTube hosting and live streaming
Cross-platform compatibility using Cloud library sync operation (paid subscription)
Light UI theme choice
Auto DJ function
Free access to Mobile Library Sync function
Master tempo with the Ableton Link support function
Drawbacks of Pioneer RekordBox
Scratching doesn't sound good
Some paid functions are not worthwhile
The user interface is not as smooth
Less stable
6. Algoriddim Djay Pro – Best Mobile DJ Software
Algoriddim DJay Pro wins the title of Best Mobile DJ Software because of its mobile DJ facilities. It is available on Android, Windows, Mac, and almost every operating system there is.
It is an all-in-one DJ program that integrates music tracks in your library, allowing you access to thousands of remixes in one go. With the app, you can choose to perform live, make quick changes to your records, and at the same time enable the auto mix mode.
Awesome as it may be, the capabilities of the DJay Pro depend on the platform you use, preferably Apple and iOS. The user interface is extremely powerful on both platforms, although we cannot say the same if you're using Windows and Android OS.
Advantages of Algoriddim Djay Pro
The free version has five crucial effects, two virtual turntables, and an auto-mix feature
Compatibility with over 50 controllers (paid version)
Access to 2-deck and 4-deck views (paid version)
Excellent library browser arrangement (paid version)
Lots of free samples (paid version)
Video mode for iOS devices (paid version)
No subscription is needed for iPad and iPhone users
MIDI support and native hardware
Drawbacks of Algoriddim Djay Pro
Requires paid subscription to access most features
Unable to activate voiceover tags or individual shots
Limited features for Windows desktop and Android versions: No DJ mode for videos, no deck style option, no view customization
Lacks support for the Android version
7. Mixxx – Best Free DJ Software App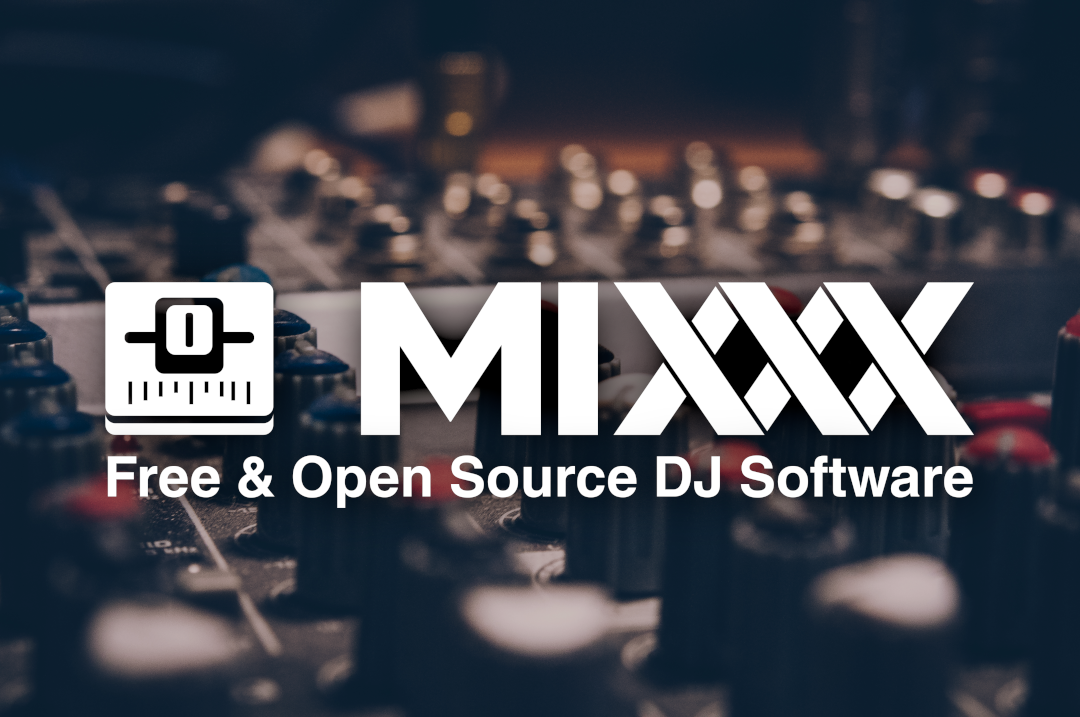 Mixxx is the best option for the budget-conscious; it is free and open-source DJ software with surprisingly good features like FX chaining, RGB waveforms, and harmonic mixing. We chose it as the Best Free DJ software because of its simple, fool-proof interface, precise BPM detecting, modest reliability, and time-stretching effects.
The software may help broaden your audience since it can access different servers and allows you to perform a live broadcast of your music tracks. However, it does not support mobile streaming, which is perhaps too much to ask, considering it is a free program.
Advantages of Mixxx
Free and open-source
Simple UI and beginner-friendly
Free DJ mixer and timecode digital vinyl system
Better compatibility than VirtualDJ
Trustworthy and reliable software
Hassle-free broadcasting, with Shoutcast and Icecast servers available for live streaming
Disadvantages of Mixxx
No mobile application
Lacks UI consistency
Limited functions for FX select buttons
Complex and slow MIDI mapping
Limited FX chaining feature
Buyer's Guide To Choosing The Best DJ Software
Deciding which DJ software to buy from a myriad of options is an overwhelmingly tedious task and can also be confusing, especially for a budding DJ. It is why we have come up with our list of top picks to lift this burden from your shoulders.
Are you new to the DJ game?
Beginners could use a high-quality DJ software like VirtualDJ, which is one of the best there is that is very user-friendly. Ultimately, the rookie DJ should go for software that has these useful features:
Easy navigation with intuitive buttons
Access to excellent tutorials and third-party extensions
User-friendly interface and GUI
Access to customization
Simple two-deck window
New DJs can also play with free or cheap software options like Mixxx, Serato DJ Lite, or FL studio. Save your upgraded features and advanced functions later.
What is your DJing style?
Let's get to know briefly what type of DJ you are. Do you like streaming online more or performing live to your audience? What do you consider essential tracks? Do you like pre-planning them, or do you go on the fly?
If you plan your remixes ahead of time, Ableton Live is a great choice. On the other hand, Traktor Pro would seem a right fit when you are into live performances. We also recommend apps that come with native DJ hardware like Serato DJ lite, as they work best in clubs with massive sound systems.
How much is your DJ budget?
So, how much money can you invest in your DJ tech? Not to worry, though, since at least one mixing software meets every budget level and skill. As mentioned in our list, Mixxx is free and open-source software that can be a starter program for any aspiring DJ that they can learn a lot from.
Now for the more advanced and experienced artist, you will never run out of options for sure. Needless to say, you are willing to shell out for a good program to suit your demands and skills. And remember, you need to account for other gear that comes with DJing, such as a DJ controller, speakers, and other hardware. Check how much you can allocate for your desired software, notwithstanding your gig frequency, app usage, location, and other factors.
Which platform will you use?
Another important consideration when choosing the right DJ software is your playing platform.
Simply put, which OS are you on – Windows, iOS, or Android? You can choose the right mixing software based on your platform; for example, Algoriddim works optimally on an Apple system rather than Windows. It is also worth knowing if it can work on its own or if it requires supplemental hardware. When using smart devices, does it have an app? That's because not all DJ programs have one, such as Mixxx.
Other factors to consider when choosing DJ software
Streaming Services
Compatibility
Harmonic Mixing ability
Library Management
Video Mixing Features
Built-in effects
Final thoughts
While all of our picks are highly commendable in their own right, we are partial towards our Editor's choice, Ableton Live, because of its simplicity and versatility, catering to beginners and pros alike.
This DJ software is fully featured with various tracks and remixes. Its powerful warping transforms your audio into a time-bending spectacle. With its 14-day free trial, you really have nothing to lose and every mixing technique to gain.